SAM Sequencer Addon Module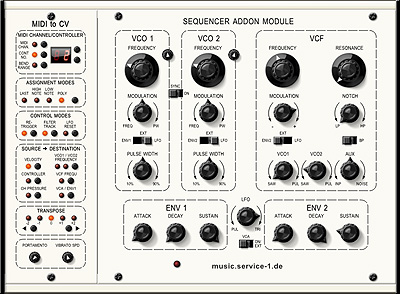 Get the classic analog sound for your PC ! SAM is a recreation of the famous Oberheim™ SEM analogue synth module.
Our goal was to catch the typical analog sound of the original hardware emulating circuit instabilities with our new VAE* technique. Leaving some limitations of the hardware behind, the plugin is polyphonic, allows more than one MIDI modulation source, has an extra LFO for pitch (reacting on the mod wheel) and a noise oscillator.
SAM is the big brother of SAMse.
Besides this extensions, the plugin is following the simplicity and sound options of the original. Clear layout, easy to use, full sound. 64 presets included.
Have a listen to the sound examples or download the PDF-manual.
What others say:
Thank you!
This is the best software emulation of the SEM i have ever heard. I have a SEM Midi and it sounds perfect.
How did you get it so good? This blows away the A***** version, which i have a/b'd against yours. .

Eine hübsche GUI mit einem übersichtlichen Set an Parametern, das zum Schrauben einlädt, und ein Grundklang, der die entstandenen Erwartungen nicht gleich wieder im Keim erstickt, sondern überraschend "analog" und "amtlich" tönend daher kommt.
Need more features? Look at UNCLE SAM
* Virtual Analog Emulation
VST is a trademark of Steinberg.
We are not associated to Tom Oberheim.