The sound of the famous vintage string ensembles:
Cromina String Machine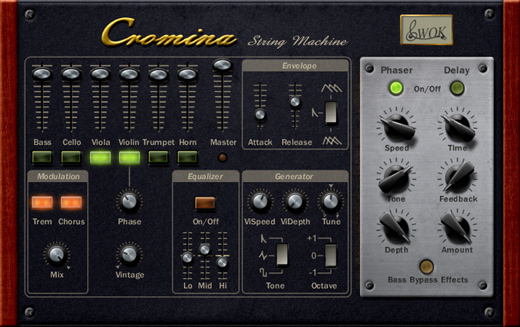 No samples inside! After nearly two years of development we were presenting this physical modelling recreation of the electronic strings sound of the 70s and 80s. Solina, Crumar and Logan where the names, which made it first possible for bands to bring a string orchestra on stage or into the studio. The lush sound of these electronic keyboards stamped many songs of this era. And then an electronic musician from France connected one of those keyboards to a phaser and created the most famous electronic string sound ever.
Two things are fundamental for this famous sound, which also made it impossible to construct a faithful copy with samples:
- the frequency divider circuit, that gave these keyboards polyphony
with the disadvantage of a very static sound
- the chorus unit to overcome this with a heavy modulation
The soundwise peculiarities of these can not be successful recreated by sampling. So we developed a plugin with the main emphasis on the reproduction of this typical influence on the sound. Though the drawback is a higher CPU load, it absolutely gives a much better reproduction of the original sound.
Although this plugin has it's focus on the typical Solina sound (including a phaser and delay effect), it can produce a wide range of typical sounds by using the integrated equalizer, vibrato, envelope variations (including a piano envelope) and other tuning controls:
So what's up with this octave divider thing?

Here are two MP3-examples. Please listen:
Have a listen to the sound examples and download the demo version
(no installer, no changes are made at your computer system)
You might also be interested in the
CromFX vintage effects plugin
with more chorus and phaser models.
Customers opinions:

Thank you!! Cro

mina is a masterpiece!!

Excellent work on cromina !!!
Really nice sound.

Utterly warm sou

nd !!!
Me likes very much!

This sounds so much like the real thing, I just sat and played a for about an hour in amazement. I love the sound of the Solina Strings and now I have it!