CromFX Vintage Effects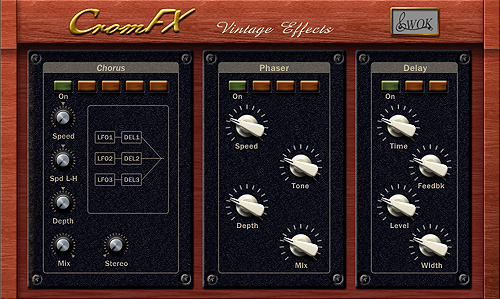 Click to enlarge
The effect section of Cromina String Machine as separate plugin with enhanced options.
Select from 4 different chorus types (modeled after vintage circuits), 3 phaser models and 2 delays!
CromFX is the perfect addon for our string machine, but can of course add brightness and warmth to any sound source. In the chorus section you will find the lush and warm chorus of Cromina plus 3 more variations, modeled after famous designs from Korg™ and Roland™.
For the phaser we have 3 different designs, the two delays (one is an analog tape style delay) support host sync.
Listen to MP3-demo (dry/wet)
Update v1.1
- enhanced compatibility
- fixed bug with a strange tone from the phase in certain situations

All names are the proprietary of their respective owners. We are not associated to Korg or Roland.