Skalenmeister is the successor of Tonmeister. It forces incoming MIDI notes to the given scale and key, and can generate chords from single notes (3 types of chords, 8 scales). The root key can be set automatically to the incoming note (for correct chords) or by MIDI notes on a second MIDI channel. For chords, there is a basic strumming adjustable.
The fourth note for SEPT and SUS chords can be changed, so it is also possible to generate add9 chords, for example.
A translation of the GUI is included in the manual.
Skalenmeister comes together with Polymeister. Basically the same, Polymeister accepts polyphonic input to force to scale, but does not generate chords.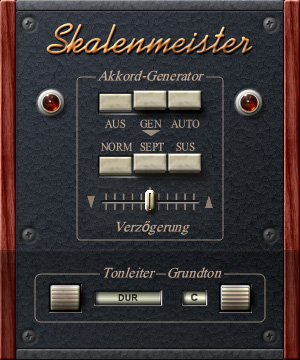 Features:
MIDI notes will be forced to the given scale and root key

root key can be set by notes on a second MIDI channel

generate chords for a single key (with strumming delay)

MIDI channel for input notes, auto root key and output can be set individually

added notes for 7th and sus can be changed for other chord types
Download Demo song:
Mozart Sonata 8 D-Major; original, setting D_minor and at last G_Phrygian.