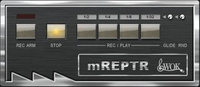 mREPR
micro-Repeater
An easy to use stutter-effect. Select REC/ARM and after any of the four buttons on the right is pressed, 10 seconds of incoming audio are recorded and the audio is looped immediately from the start point according to the length selection above the buttons.
STOP bypasses the effect, playing the original audio input - recorded material is kept and can be played again with the four buttons (until REC/ARM is used again for another portion).
Controllable by MIDI CC and notes C-A.
Click on "Soundcloud" below for audio demos.
Please donate to support the developer:



VST is a trademark of Steinberg.