For true analog sounding drum sounds:
KICKWOrK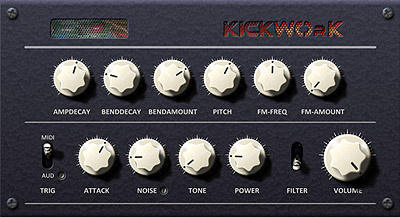 KICKWOrK is a kick drum synthesizer plugin. From deep hiphop basses to hard rave kicks - everything available with the turn of some knobs. A clear and easy GUI helps you to find your bass drum sound quick. No samples inside - pure analogue emulation. A minimum of knobs for a maximum of variations. Kick sound can be triggered by any incoming MIDI note or by an audio input (bass drum of a drumloop).
Listen to demo songs below:
Customers opinions:
Just download your new VST - kickwork. This is amazing!
This is the best kick maker I ever heard.
Its take me about few moments to make true strong kick that I need.
Thanks! Best regards!

This sounds great indeed, i'll buy this tommorrow
Just what i need !
---
VST is a trademark of Steinberg.
We are inspired by but not associated to Vermona.
Check out their interesting hardware.