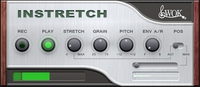 Instant audio stretching plugin
INSTRETCH is an instant extreme time stretching VST effect plugin for Windows. Record up to 30 seconds of audio and play it back extreme slow. Manual scrubbing and pitch shifting is also possible.
Click "Youtube" below for demo.
Please donate to support the developer:



VST is a trademark of Steinberg.